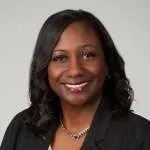 As Chief Marketing Officer, Yolanda Smith is responsible for leading the organization's brand, marketing, and communications strategy. She is focused on developing bold, integrated marketing initiatives and programs that drive brand awareness, student, alumni, and corporate engagement, as well as philanthropic giving. She also oversees the strategy, planning, and execution of PR and digital media.
Before this current role, Yolanda worked as an executive marketing consultant for INROADS, providing strategic expertise to ensure a solid marketing foundation across the enterprise. Under Yolanda's leadership, the organization's website was redesigned, resulting in a 30% increase in web traffic. In addition, followers and engagement in social media have increased by over 20%. In addition, Yolanda has revamped organization and program collateral across the enterprise and supported major organization events, including the gala and impact events, as well as programming events like the College Links National Career Academy and the National Conference.
Yolanda Smith is a seasoned marketing executive, general manager, and entrepreneur with over 20 years of experience. She has led and managed multi-million-dollar brands from The Home Depot and Kodak. In addition, she is credited for developing and executing integrated marketing plans resulting in notable year-over-year revenue growth. As an entrepreneur, Yolanda was the owner and operator of a healthcare company. She led all aspects of the business, including marketing, business development, procurement and fulfillment of government contracts, and finance. In addition, as an executive consultant, she led management consulting engagements where she was responsible for executing marketing strategy, brand positioning, and consumer and B2B marketing communications.
Yolanda Smith has an MBA from Duke University's Fuqua School of Business and a Bachelor of Science in Accounting from Alabama A&M University. Yolanda is a proud INROADS alumna that lived the experience of receiving training and development as a 4-year INROADS intern in Chicago, IL. She is an active member of Alpha Kappa Alpha Sorority, Inc., and enjoys travel and home improvement projects.