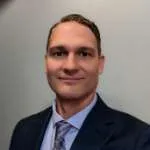 Dray Yarbrough is the first Chief Technology Officer of INROADS responsible for the integration and unification of the INROADS experience, with a focus on scaling our programs to be able to reach more lives in a larger geographic footprint.
Dray has over 20 years of experience in networking, systems architecture, application development, systems integration, analytics, and data management. He has built technology systems and teams from the ground up across manufacturing, healthcare, and, most recently, furniture retail.
For the past several years, Dray has helped Bob's Discount Furniture through their digital omnichannel transformation, integrating their website and supporting technology to their backend systems while continually improving their customer's experience, enabling them to have year-over-year growth, supporting their expansion from a chain to a coast-to-coast, nationwide retailer.
Dray received his Bachelor of Science in Computer Information Systems. He is a native of Dothan, Alabama, and is currently living with his family in central Connecticut. Dray enjoys playing board games with friends and family, playing soccer, and doing home improvement projects.