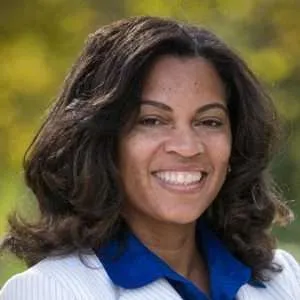 As the first Chief Impact Officer for INROADS, Dr. Kelly D. Owens is charged with establishing a unit focused on program evaluation, data collection and reporting, and the identification of evidence-based high-impact practices.  She is also responsible for aligning funding and partnerships leading to the production and dissemination of research.
Dr. Kelly D. Owens has 20+ years of experience in nonprofit and higher education administration, including a prior five-year stint at INROADS as a grant development specialist and director of sponsored programs.  In addition to securing several monumental grants for INROADS, Owens played a crucial role in the launch of College Links.  Her expertise includes program development and evaluation, strategic planning, curriculum development and teaching, and qualitative research. In her former role as Director of Sponsored Research and Programs at California Lutheran University, she was instrumental in establishing and securing funding for several new Title III, Title V, and TRIO programs.  She also led efforts to institutionalize programming focused on supporting traditionally underrepresented students. Her work helped to establish an endowment for research fellowships and to secure funding for cultural proficiency training for faculty.  As adjunct faculty at Cal Lutheran, Owens taught courses in research methods and grant writing.  She is most proud of co-founding the Community Scholars for Black Lives program at Cal Lutheran, launched in 2020.
Dr. Owens holds degrees in education, student affairs administration, and urban studies from LSU, Columbia University, and the University of New Orleans, respectively. Her scholarly work has focused on housing policy, social control, and neighborhood effects. Owens continues to utilize this lens when unpacking the systemic forces that have dictated educational outcomes for high school and college students.   Previously, Owens worked for the Congressional Black Caucus Foundation (CBCF) where she served as director of education overseeing the congressional internship and fellowship programs.  To further engage college students and early-career professionals, Owens developed the Emerging Leaders Series and the Emerging Leaders Track as part of the Annual Legislative Conference (ALC). Owens served as director of ALC during the last four years of her tenure at CBCF.  Owens also worked at Howard University, the U.S. House of Representatives Congressional Page Program, United Way of America, the Freeman School of Business at Tulane University, and Dillard University where she was a visiting assistant professor in the urban studies program.
Owens is a first-generation college student raised in South Central Los Angeles, California. She currently resides in South Louisiana and is an active member of Delta Sigma Theta Sorority, Inc. Owens enjoys golf, travel, and live music.