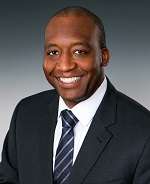 André Powell is the vice president of Finance for Operations & Quality at Collins Aerospace. In his role, André leads Finance for Central Operations, including locations in the United States, Puerto Rico, Singapore, India, Indonesia and Poland. André partners with the Operations, Supply Chain & Quality leadership team to achieve business goals while overseeing the execution and compliance of financial reporting.
André previously served as executive assistant to the chairman & chief executive officer of United Technologies Corporation (UTC). In this role, he served as a trusted advisor during the Rockwell Collins acquisition and the UTC portfolio separation decision.
André is the executive sponsor for Collins Aerospace Charlotte-based African American Forum. The African American Forum is comprised of exciting and dynamic professionals dedicated to the inclusion and diversity initiatives at Collins. The African American Forum was chartered to empower and engage African American employees in Charlotte through professional development, recruitment/retention, networking and community involvement. He serves as the executive sponsor for Finance diversity on the UTC Finance Council. André also is on the National Board of Directors of INROADS, Inc.
Prior to joining UTC, André was the vice president of Finance, Academic Affairs & Research Financial Control for Howard University. André was the financial lead for all academic schools and colleges, centers/institutes and libraries and led all finance/accounting for Howard University-sponsored research portfolio.
Prior to Howard University, André spent 15 years with Pratt & Whitney. He held multiple roles of increasing responsibility both domestically and internationally during his tenure.
André has more than 26 years of finance experience, beginning his career as an Inroads intern in the Greater Hartford/Springfield region immediately after high school and then working four consecutive summers at UTC. He has a Bachelor in Accounting degree from Howard University and a Master's in Business Administration degree from both Purdue University and TiasNimbas Business School.
André lives in Charlotte North Carolina with his wife and his two children, boy/girl twins.